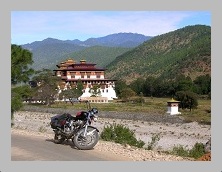 The motorcycles on offer will be the legendary Royal Enfield and KTM motorcycles. Both the Enfield and KTM have a longstanding and proven track record for durability and efficiency on the mountainous and rugged roads of the great Himalayas.  All tours will be accompanied by highly trained mechanics and experienced tour guides. A back-up vehicle will always be provided with every tour irrespective of the group size alongside with a mechanic and motorcycle spare parts.
The company will also ensure that all safety precautions are met with from briefing sessions before the ride. A first aid kit in case of injuries due to accidents and sicknesses will also be readily available. The tour guides are also trained to conduct basic first-aid.
All hotels are approved by the Tourism Council of Bhutan and are of minimum 3 star categories as certified by the government. Hotels in the East of Bhutan can be of 2 and 3 star categories.
Important notes
A valid motorcycle license of your country of origin is mandatory for all riders
Helmets are compulsory for both riders and pillions
Clients are asked to bring along their own helmets
An indemnity form will have to be signed before the tour commences
Proper riding gear encouraged at all times
Waterproof riding gear is recommended along with goggles and masks
Half helmets are permitted
Security deposit of $ 500 for motorcycle to be made before the tour commences in case of damages to the motorcycle due to clients negligence.
Details on the motorcycles
Motorcycle type –
Royal Enfield Himalayan (www.royalenfield.com)
Fuel capacity: ~15L
Engine: LS410, Air-cooled single-cylinder 4-stroke, SOHC, Fuel Injection, 411 cc
Suspension: Front – telescopic, Rear – monoshock
Compression ratio: 9.5:1
Manufacturer: Royal Enfield
Transmission: 5 speed, manual
Class: Adventure Tourer
KTM (http://www.ktm.com/)
Engine displacement- 640cc
Model type -640 cc Adventure